Welcome to Year 1
Mrs Wood / Mrs Turner
Just thought we would share this lovely pond life collage that some of the Year 1 and Year 2 children created in our bungalow.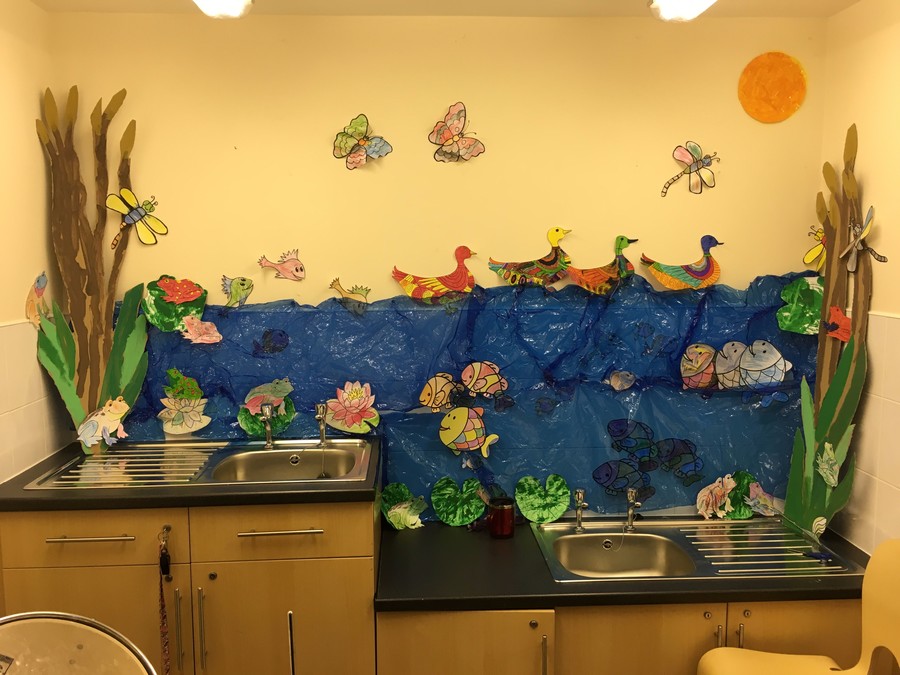 Internet Safety
Year 1 sang a song called,
"Pause and think online"
all about internet safety.
Here it is.We hope you enjoy it.
Year 1 – The Detectives!
We came into school this morning to find out some strange happenings had been going on in our classroom. We found some information on Mrs Turner's laptop from Oldham Special Investigations Unit asking for our help to uncover our classroom mystery. We were equipped with clipboards and detective agency badges and set off into our classroom. We found lots of clues and evidence and after discussions together and comparing our ideas we think that we cracked the mystery! Have a look at our pictures to see us in action while we tried to work out who could have taken our toys and who could have tied Teddy to the pillar! Luckily with our expert detective skills we believe we have solved the mystery! We think villains have been in our classroom, closely chased by various superheroes. We are all working towards saving our toys and getting them back into Year 1!! Watch this space for more information …
What we've been up to in Year 1
In Year 1 this half term we have been working together to recreate the story of Little Red Riding Hood in English using our role play and acting skills. In Maths we have been using lots of concrete objects to help us with our addition and subtraction skills. Take a look at some of our pictures!
Year 1
This is what we've been up to in Mrs Turner's first week with Year 1.
We've been having lots of fun.
Here is a video of Year 1 retelling the story of
Knuffle Bunny. We hope you enjoy it.