The children are encouraged to work with a wide range of media. They are taught how to use tools properly and safely. Children are able to express themselves through 2 dimensional and 3 dimensional work as well as being able to develop a personal style of aesthetic appreciation. Our topic approach to the curriculum also allows the children to apply their skills in a meaningful context to produce work which also enhances their understanding of the topic.
Throughout the academic year we also endeavour to celebrate different cultural days. This gives the children the opportunity to express their learning through art and design and this work is displayed to share with our school community.
Year 4's Anglo Saxon clay masks inspired by the helmet found at Sutton Hoo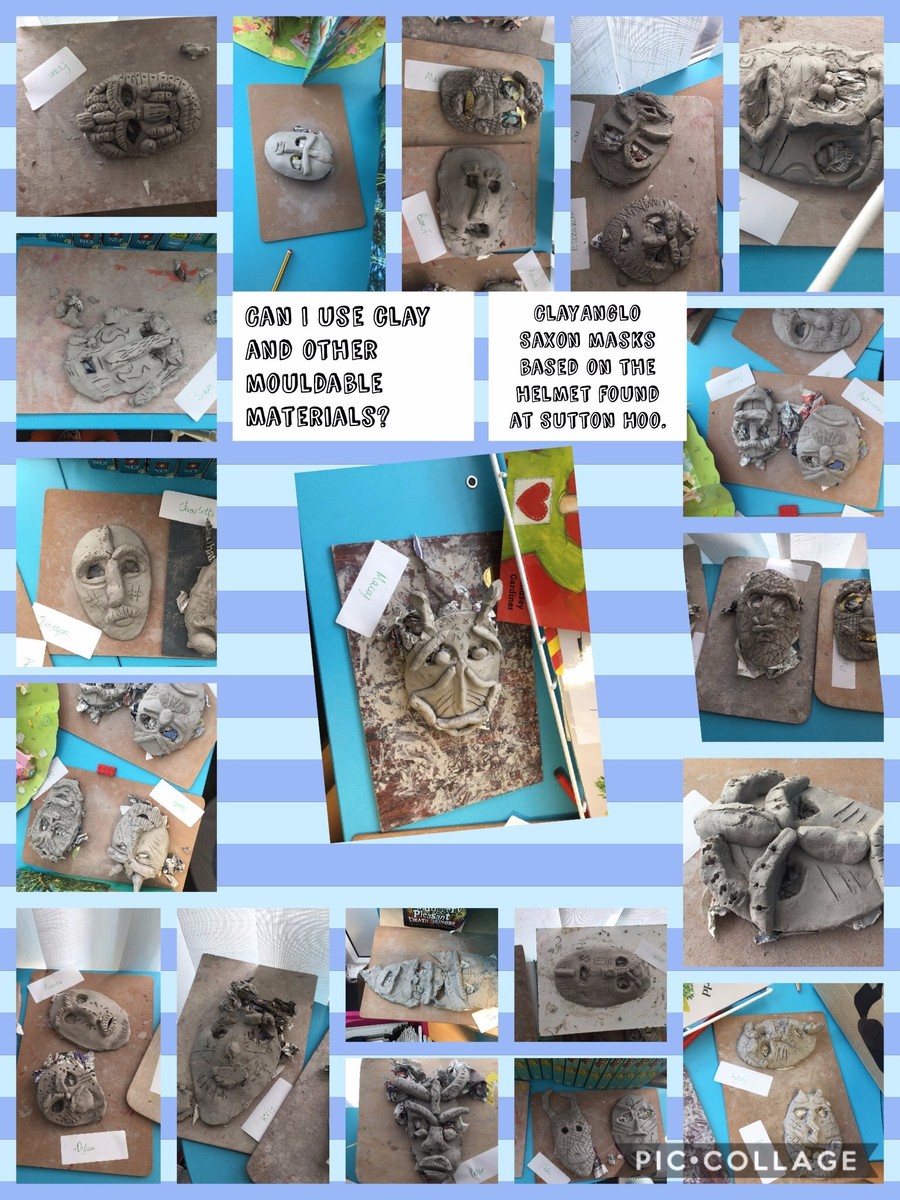 Year 4's digital art
The children were given a landscape image of Saddleworth. They had to look carefully at how the artist used colour, lines and tone to create the image. After that, they had a go at recreating the picture using pencil and next they recreated it on the iPad using the paint app. All in all, the children displayed 3 variations of a Saddleworth landscape using a variety of mediums and artistic influence.
Year 4's City Printing
In Year 4, the children used foam pads to draw a cityscape. They then painted their foam pad and printed it onto paper 4 times with different colours. The effects were so interesting and pretty. The children then used their foam print to create a class blanket; they printed their cityscape onto a piece of white cotton. The class blanket is a much loved addition to the Year 4 classroom and can be found on the investigation table.
Artistic Festivities
Year 4 created two Christmas cards associated to Buddy (our cheeky Christmas elf) and 'The Grinch' story. Inside our cards, we displayed our blackout Grinch poems.
We also used crayons to create a bright, uplifting 2017 calendar.
Year 4's Celtic artwork
In Year 4, the children explored Celtic customs, life and art by creating their own tapestry, designing and painting their own shields (with a Roman and Celtic design) and exploring Celt woad. We worked well as a class and helped one another explore new mediums, tools and artistic skills.
Year 3's Pre-historic art
In Year 3, the children explored Stone Age art and artifacts by creating their own salt dough fossils, sketching their own cave drawings and then designing and buying their own round house using junk modeling materials. The children did a fantastic job and now have a real sense of how art and historical findings can give us an insight into the past.
Year 5's Victorian doll house
The Year 5's were given a Victorian room to research and recreate. In groups, the children used wallpaper, play dough, beads, lolly sticks, felt and more to create beautiful rooms. As a class, they now have a fantastic Victorian doll house.
ART DAY 2016
This year our Art Day followed the theme of 'Transition'. The different year groups interpreted this theme in their own way and produced some amazing art.
Reception have been learning about life cycles and based lots of art around this topic. Beautiful butterflies dazzled us!
Year 1 and 2 created watercolour paintings of the transition from day to night. A gorgeous array of colours made the paintings very effective.
Year 3 produced sketches of sunflower seeds and the plants at various stages of growth before using oil pastels to create pictures of beautiful sunflowers. They are now on display in their classroom as part of Van Gogh's Sunflowers.
Year 4 had a go at the art of quilling to create some very intricate and effective art. They used recycled paper for their works of art and described the transition of trash into treasure....very imaginative!
Year 5 used a range of media to represent the different stages of human life. The art was extremely detailed, colourful and it was fantastic to see such originality!
Year 6 created some super digital art representing their journey and the transition from Reception to Year 6. We were all very impressed with the finished products!
Thank you to all the parents who came at the end of the day to celebrate the children's work :-)