Excitement at St Anne's
We had a visit today from the Air Ambulance after one of our children slipped in the playground.
Thankfully, after a thorough examination by the Air Paramedic, she was able to go home with dad for some rest.
Here is the video of the Air Ambulance leaving the school grounds.
The children really enjoyed it.
Thank you Air Ambulance for your quick response.
No Pens Wednesday 2017
Take a look at all the ways we have been working without writing today. There have been lots of discussions, drama, concrete maths, science investigations and P4C sessions taking place throughout school- and not a pen in sight.
In assembly, this morning, we thought about how people who are unable to speak would communicate on No Pens Wednesday. We all used sign language to perform Sing by Gary Barlow.
Watch Year 5 and 6 sign the song.
I think you will agree that they did a great job!
International Peace Day.
Here are some pictures of our school celebrating National Peace Day.
Welcome back.
It's lovely to see all the children back dressed smartly and ready to learn.
Here are a few photos of all our year groups hard at work.
The Great North Run.
We are extremely proud of Miss Lees. She ran The Great North Run last Sunday.
Here she is proudly showing off her medal. She also managed to raise over £300 for the Prostate Cancer Charity.
Well Done Miss Lees, you are amazing.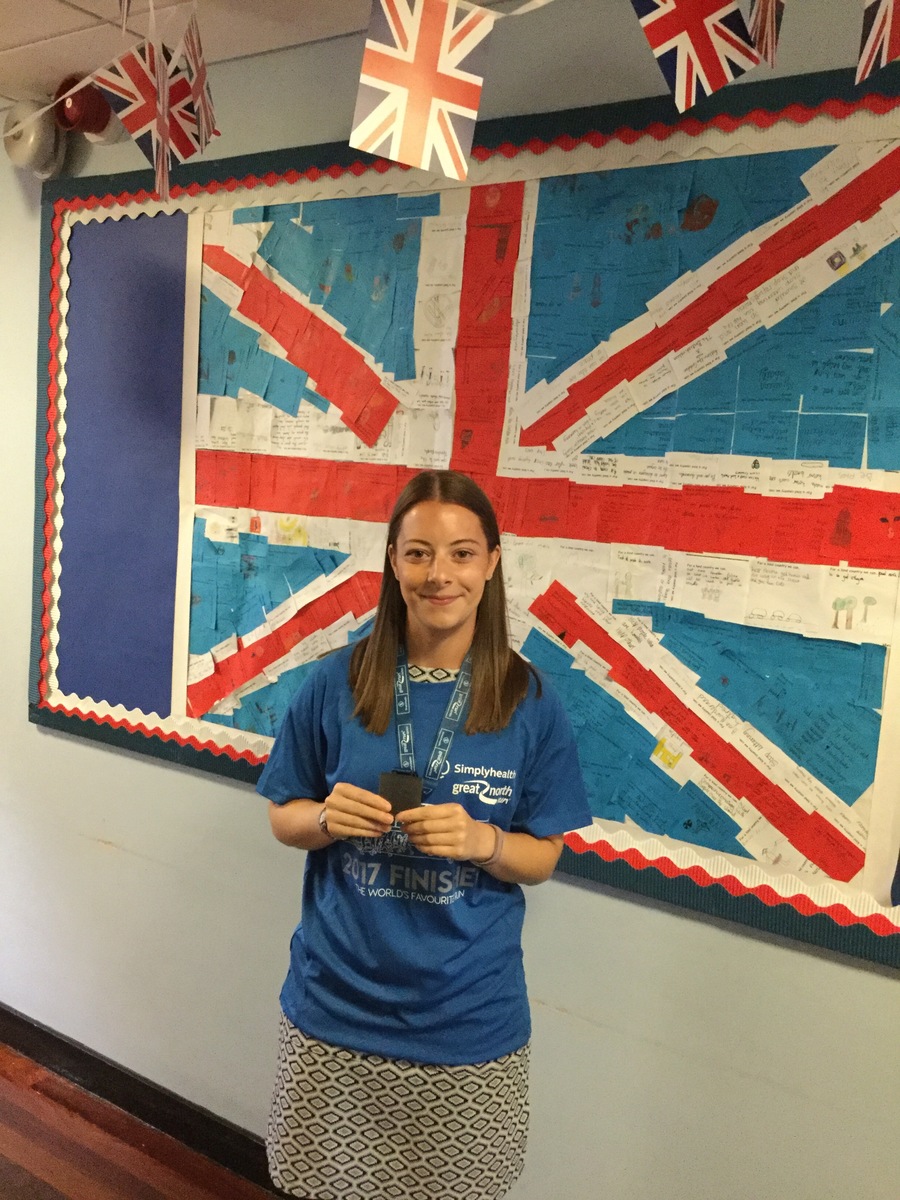 Internet Safety.
A page has been set up on this website to help you with
Internet Safety.
Use the links to guide you.
Also, on the right of this page,you will find the links for:
Mathletics and Spag.com.
We hope this will be helpful for children who are struggling to access these sites from their computers.
Hope this helps.
Vodaphone Parenting digital Magazine
If you have any queries or concerns, please contact
Mrs Shawcross on:
0161 770 8661 or email : info@stannescelydgate.oldham.sch.uk
Latest School Events
Finish for Half-Term Holiday, 3.15pm

27

Oct

2017

Finish for Half-Term Holiday, 3.15pm
Latest Extra-Curricular Activities Events
Vocal Coaching / School Choir

17

Oct

2017

3:15 pm - 4:15 pm @ School Hall

Choir/vocal coaching with Mrs Radcliffe from Oldham Music Service

Gymnatics Club

18

Oct

2017

3:15 pm - 4:15 pm

Street / Break Dance

19

Oct

2017

3:15 pm - 4:15 pm @ School Hall

Dance is provided by Oldham Sports Development

Football

20

Oct

2017

3:15 pm - 4:15 pm @ KS2 Playrgound

With Mr Casey and Mr Henley for KS2 children

Brass Band Club

23

Oct

2017

12:25 pm - 1:00 pm @ Bungalow

Brass Band Club with Miss Latus