Welcome back.
It's lovely to see all the children back dressed smartly and ready to learn.
Here are a few photos of all our year groups hard at work.
The Great North Run.
We are extremely proud of Miss Lees. She ran The Great North Run last Sunday.
Here she is proudly showing off her medal. She also managed to raise over £300 for the Prostate Cancer Charity.
Well Done Miss Lees, you are amazing.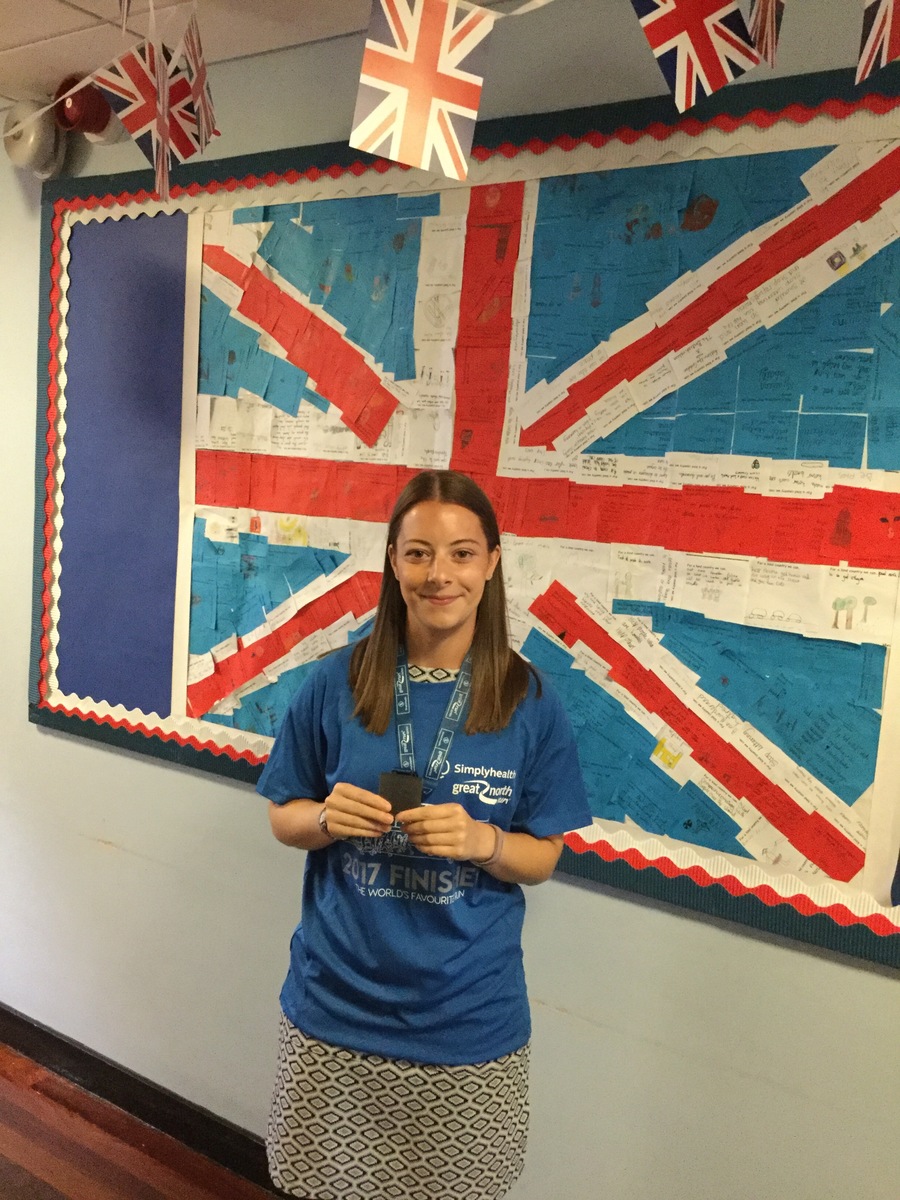 Internet Safety.
A page has been set up on this website to help you with
Internet Safety.
Use the links to guide you.
Also, on the right of this page,you will find the links for:
Mathletics and Spag.com.
We hope this will be helpful for children who are struggling to access these sites from their computers.
Hope this helps.
If you have any queries or concerns, please contact
Mrs Shawcross on:
0161 770 8661 or email : info@stannescelydgate.oldham.sch.uk
Latest School Events
Rec Parents Reading & Writing Meeting

28

Sep

2017

Reception Parents Reading & Writing Meeting, 6pm

Open Morning for New Parents, 9.30 - 11.00 am

06

Oct

2017

Open Morning for New Parents, 9.30 - 11.00am

Open Morning for New Parents, 9.30 - 11.00 am

07

Oct

2017

Open Morning for New Parents, 9.30 - 11.00am
Latest Extra-Curricular Activities Events
Brass Band Club

25

Sep

2017

12:25 pm - 1:00 pm @ Bungalow

Brass Band Club with Miss Latus

Vocal Coaching / School Choir

26

Sep

2017

3:15 pm - 4:15 pm @ School Hall

Choir/vocal coaching with Mrs Radcliffe from Oldham Music Service

Gymnatics Club

27

Sep

2017

3:15 pm - 4:15 pm

Street / Break Dance

28

Sep

2017

3:15 pm - 4:15 pm @ School Hall

Dance is provided by Oldham Sports Development

Football

29

Sep

2017

3:15 pm - 4:15 pm @ KS2 Playrgound

With Mr Casey and Mr Henley for KS2 children